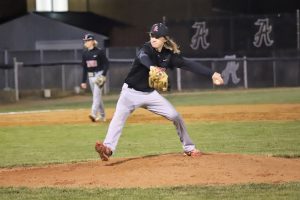 The James River baseball team continues a tough early season schedule this week with three games against teams in higher classifications than the Class 2 Knights. After opening with Class 4 Salem and Amherst the Knights will take on Class 3 Waynesboro, Northside and Rockbridge this week.
River had a trip to Waynesboro on Tuesday and Northside comes to Springwood for a game today. On Friday the Knights are at Rockbridge, then take off for a week before Rockbridge comes here for a March 31 game.
Last Friday at Amherst a strong Lancer team roughed up the Knights for 18 runs in an 18-8 win. River struck for five runs in the third inning with a John Austin double being the big hit. The Lancers struck back for seven in the fifth.
Zeal Hammons started the game for James River and lasted two and two-thirds innings to take the loss. Taylor Willson, Hunter Mays and Logan Joyce all pitched in relief before the game was ended by the 10-run rule in the bottom of the fifth inning.
Willson was two-for-two at the plate for the Knights. Mays scored three runs and Heath Andrews scored two in the loss.
"When we play Semiole District teams, we anticipate good competition," said River coach Matt Gouker. "We went to Amherst to show what we were made of. Even though the score was not in our favor, we continued to fight the whole game. Our coaching staff is extremely proud of the fight that the Knights put out on the field. We continue to work for one game at a time."