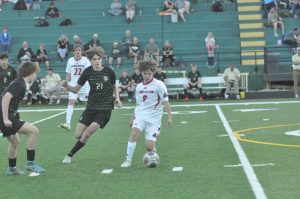 The James River soccer teams took on strong Glenvar foes last week and were swept in Three Rivers District action on the pitch. The girls lost at home and the boys were defeated at Glenvar.
The River boys were 5-0 before falling to last year's Class 2 state runner-up, 9-1. Glenvar opened a 6-1 lead by the half.
"Glenvar is strong and we were short players," said River coach Jared Whiting. "To beat them we needed to be on top of our game and we weren't. Simply, we got beat and have to prepare for the game against them later in the season."
The Knights bounced back with a 4-3 win over Carroll County in overtime on Monday to improve to 6-1 on the season. Justin Hill had two goals and Josiah Clark and Zack Griswald had one each.
"Carroll had some fast guys and it took us awhile to adjust to their quick, over the top counter attack," said Whiting. "The guys stepped up and played strong throughout the overtime periods and ended with the outcome we were looking for."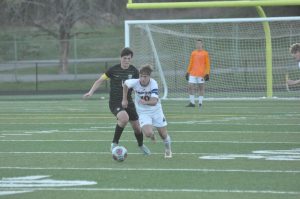 The girls hosted Glenvar and dropped a 6-0 decision to last year's state champs. Ava Thacker had a busy night in the River goal with some tough saves while the Knights were able to put only one shot on the Glenvar goal.
The Knights had two other games in the past week and both were wins. Last week at Nelson County the girls took a 3-1 win as Victoria Race-Waller scored twice and Drew Whitson had the other goal.
On Monday the girls hosted Carroll County and took a 1-0 win. After a scoreless first half the game appeared headed for overtime. However, with less than a minute remaining River's Natalie Hughes won the ball in the middle of the field and made her own space, defeating at least four opponents on the dribble to set up a precise ground shot to the back corner past the Cavalier keeper. Chloe Helmandollar earned the shutout in goal with some terrific saves.
The result gave the girls a 3-5 overall record as they prepare to host Radford in a big Three Rivers District game on Thursday. The boys are at Radford Thursday after hosting Auburn tonight.