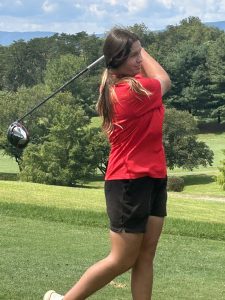 The Lord Botetourt golfers saw their season come to an end when the Cavaliers finished in third place in the Region 3D tournament September 26. Abingdon won the tournament at the Draper Valley Golf Club in Draper.
The top two teams in the 13-team tournament advance to the state tourney, as well as the top three individuals not on those teams. Abingdon and second place Hidden Valley advanced as a team and individuals who qualified were Josh Cummins of Christiansburg with a 69, Nate Faulkner of Cave Spring with a 71 and Logan Williams of Magna Vista with a 73.
"Our region is pretty tough," said LB coach Todd Smith. "The state champion has usually come out of our region over the past few years. I was pleased with how we played, but it just wasn't good enough. The scores that qualified for states were pretty good, so those teams definitely earned it."
Abingdon shot a team total of 294 to win the day and Hidden Valley was close behind, also qualifying for the state at 297. Lord Botetourt was the top Blue Ridge District team with a 314, followed by Magna Vista at 317, Christiansburg at 319 and William Byrd tied Northside for sixth at 321.
Botetourt's top score was a 76 by freshman Alisa Davidov. Aidan Mitchell was close behind at 77 and also scoring were Jeremy Simmons at 80 and Haden Firestone at 81.
Davidov will continue her season when she plays in a zone qualifier at Auburn Hills on October 16 to try to qualify for the girls state championship tournament. The girls tournament includes schools of all sizes.
"Coming in third is something they should be proud of, and really be proud of what they accomplished for this entire year," said Smith of the Cavalier team. "We lost all six starters from last year's team and these guys, and girl, were able to win the district regular season title. They definitely put in the work during the summer and throughout the season, so hopefully they will come back stronger next year."