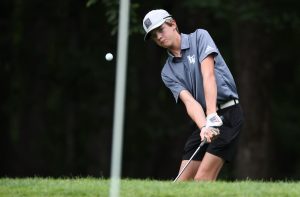 The Lord Botetourt golfers were scheduled to play a Blue Ridge District "mini-match" on Tuesday of this week at the Mariner's Landing course. Staunton River was the host of that round of the BRD tour, but results were too late for publication.
Lord Botetourt came into Tuesday's match in second place in the Blue Ridge District standings. Northside had a 15-stroke lead with a season total of 937 compared to LB's 952. Franklin County was third at 970 followed by William Byrd at 984 and Staunton River at 1,201.
Tuesday's match was the only scheduled round of the week for LB. Next Tuesday, September 12, William Byrd will host a match at Blue Hills.