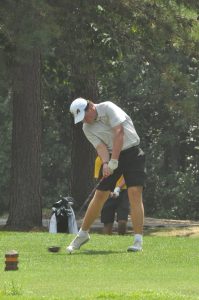 The James River golfers had a non-district match at the Cascades course on Thursday of last week and finished second among four teams. The Knights finished second to Greenbrier East in a match that also included Pocahontas County High of West Virginia and Bath County.
"We placed second by six strokes," said coach Donna Cox. "The guys played really well on a difficult course."
Senior Dylan Hicks and freshman Landon Bolling shot 83 each to lead the team. Senior Haden Parker and freshman Mason Gilliland shot 87 each as River finished with a team score of 340.
This week the Knights are scheduled to play at Old Mill on Tuesday and then travel to Floyd County for a match at Great Oaks on Thursday. Both are Three Rivers District events.
The jayvees played a nine-hole match with Glenvar and Alleghany last week. The Knights tied Glenvar for first behind a 43 from Caden Hoyt.