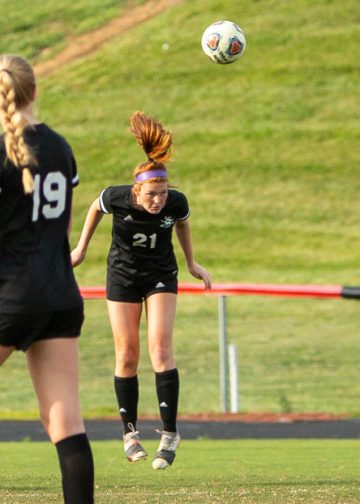 The Lord Botetourt girls were preparing to host William Byrd in a huge Region 3D soccer game as the paper went to press this week. Botetourt and Byrd had a Tuesday game in Daleville, with the winner clinching a spot in the state tournament and the loser seeing their season come to an end.
Tuesday's game was the fourth meeting of the season between the two Blue Ridge District rivals. Both regular season games ended in a draw, while Byrd won the BRD tournament final, 4-3, on the Terriers' home pitch. Byrd had the better season record, but LB was awarded the higher seed in the regional due to strength of schedule so the Cavs got to host this week's region game.
Tuesday's winner will advance to Friday's Region 3D championship game against the winner of a game between top-seeded Magna Vista and Hidden Valley. If Magna Vista wins that game they would host Friday's game, but if Hidden Valley prevails then the LB-Byrd winner would get to be home. Both region finalists advance to state play with the region champ getting a quarterfinal home game.
LB was 12-3-3 prior to Tuesday's game. They opened region play with a 3-0 win over Christiansburg in Daleville last Friday. Emma Rice had two goals and Bria Harvey had a goal and an assist.