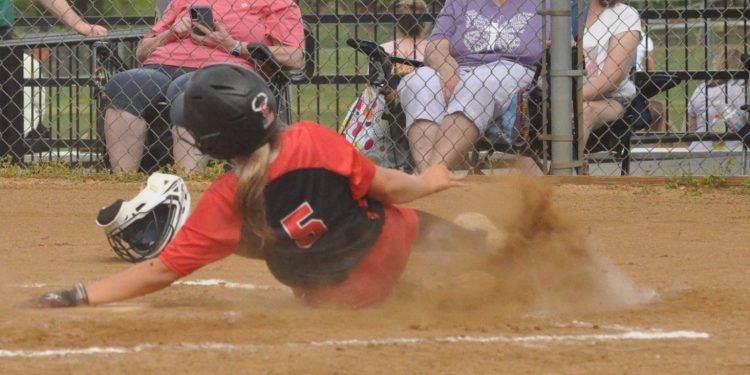 The James River girls improved their softball record to 11-1 against teams in larger VHSL classifications with a 7-3 win over Rockbridge in Springwood Monday night. The Knights are now 15-1 overall.
Austyn Moran scattered seven hits in the win, striking out six with two walks and one earned run allowed. She also had three hits to lead the Knights.
James River took a 1-0 lead in the second inning on a two-out, RBI, single by Cloey Joynes scoring Ripley Barry, who had singled. River scored five runs in the fourth inning on five hits, highlighted by an RBI triple by Barry and a two-out, two-run, single by Jenna Pugh.
"It took us a while to get going offensively," said coach Steve Austin. "We got five runs on five hits in the fourth inning to put us in a good position. Several of those balls were hit hard."
Last Thursday the Knights traveled to Carroll County for a rematch with the only team they'd lost to this season. The Cavaliers are a Class 3 team but members of the Three Rivers District, and the Knights avenged the prior loss and tied the Cavs for first place in the 3RD with a 1-0 win.
The Knights got off to a great start. Pugh bunted for a hit to lead off the game. Lexi McCullough then laid down a perfect sacrifice bunt and Elly Lackey followed with a hard single to center field scoring Pugh, and giving James River a 1-0 lead three batters into the game.
That would be all River pitcher Moran would need as she pitched a three-hit shutout with four strikeouts and only one walk. Moran never allowed a base runner past second base and got a stellar defensive play from Pugh in the fifth inning as Pugh ran down Kalee Easter's long blast to centerfield with a running,  over the shoulder, diving catch.
"It was another tight game between two good teams that know each other well," said Austin. "This time we did a little bit more than they did and we got the win. It was a playoff style game that can be helpful to us going forward."
River was scheduled to visit Radford Tuesday, and Thursday Alleghany comes to Springwood.