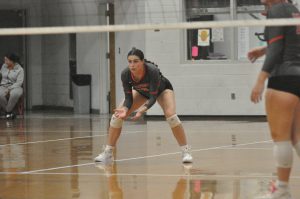 The Blue Ridge District volleyball tournament is this week, with the championship scheduled for Thursday night at the site of the highest remaining seed. If Lord Botetourt beat Northside on Tuesday, that site will be Daleville.
The Cavaliers, with a 10-0 BRD record, are the top seed in this week's tournament and Lord Botetourt played host to fourth seeded Northside on Tuesday while second seeded Franklin County took on third seeded William Byrd. The two winners will meet for the BRD tournament championship Thursday.
LB clinched the district regular season and the top seed in the tournament with a three-set win over Franklin County in Rocky Mount last week. The Cavaliers lost the first set, 25-16, but bounced back to win the next three, 25-18, 25-14 and 25-19.
Skylar Morris had 49 assists in the win, recording her 2,000th career assist. Becca Huddleston had 17 kills and Emma Rice had 16 kills and six blocks for LB. Madilyn Winterton had eight kills, Erica Gergely had seven and Bria Harvey had 23 digs.
LB then finished off the regular season with a four-set win at Staunton River on Thursday, 25-13, 25-16, 19-25 and 25-15. Huddleston and Rice had 10 kills each. That gave the Cavaliers a 10-0 BRD record.
"I thought we could have passed a little better last week and played more consistently, but it was great to finish out the district regular season undefeated," said LB coach Julie Conner.
The Cavaliers are 17-4 overall and that's good for a home game next Tuesday, October 31, to open the Region 3D tournament.