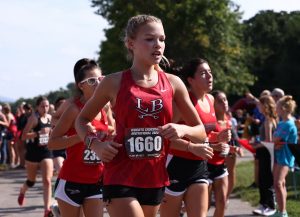 The Lord Botetourt and James River cross country teams were among over 100 schools competing in the Knights Crossing event last Saturday. The meet, held at Green Hill Park in Roanoke County, started with sunny skies but ended with a thunderstorm.
Lord Botetourt competed in the "Red" division for Virginia public schools and out of state teams. The girls finished 38th among 44 schools while the boys were 45th among 56. Cardinal Gibbons won the girls team title and Blacksburg was first for the boys.
The girls Red race included 368 runners and LB's best finish was 153rd by Erna Dietrich. The boys race had 454 runners and the top finisher from LB was Rye Jackson in 164th; Tristan Marshall was 186th.
"This was a season opener for many of our runners, so we are excited to see the improvements each runner will make as we continue to condition and train for our peak races," said LB coach Elizabeth Wilson.
James River ran in the "Black" race for Virginia public and private schools. The Knights were 19th out of 21 girls teams and 24th among 30 for the boys. The Alleghany girls and Bassett boys were team winners.
Drew Whitson led the River girls with a 36th place finish among 183 runners. For the boys, Tristian Capo-Lopez had the best time when he finished 108th among 259 runners.
This Saturday the River team will run at Wilson Memorial and the Lord Botetourt team will be at Hidden Valley for the "Clash with the Titans."