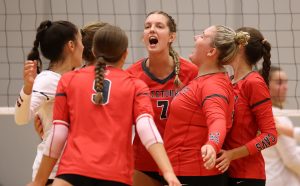 Lord Botetourt and James River will go head-to-head in volleyball Thursday for the second time this season. The host Cavaliers won the first match, in Springwood, in four sets in the season-opener for both teams.
Since then, both teams have been red hot. The Cavaliers are 4-1 with their only loss coming to Blacksburg, while James River has gone 5-1 since losing to LB in their season debut.
The intra-county matches are always a highlight of the season, as both teams have been traditionally strong. First year James River coach Linsey Firebaugh played against LB when she was a student, and now she's coaching against them.
"Ever since my sister, Taylor Statome, was here I remember hearing about the rivalry between LB and JR," said Firebaugh. Statome, now Taylor Austin, was a member of River's 2010 state championship team.
"The moment I stepped on the court in high school and played LB for the first time I could feel the energy in the gym," said Firebaugh. "This rivalry had been around for a while and would continue even after I was gone. Now, stepping on the court and playing LB as a coach, the excitement and nervousness to play is even greater."
Both teams have state championship banners in their gyms.
"This game helps showcase the talent in the county and bring out the competitive nature of each student athlete," said Firebaugh. "Competing against LB is like an adrenaline rush. A rivalry like this pushes both sides and helps bring out the best in players."
River improved to 5-2 with a three-set win over Bath County in Springwood Monday, 25-23, 25-13 and 25-18. Caitlin Canada had 18 kills, Caitlin Downey had 15 assists and Konner Myers had 23 digs.
"I am super proud of these girls," said Firebaugh. "We were down to seven players by the third set, but these girls are willing to do whatever is needed of them. They step up and battle every night."
Last Thursday the Knights dropped a five-set heart-breaker in a marathon match at Alleghany, 25-19, 25-16, 27-29, 17-25 and 15-13. River dropped the first two sets but held off the Cougars in extra points in the third, then won the fourth to tie the match. Alleghany then edged River in the fifth and deciding set to 15 by two points.
"Unfortunately we started off slowly in the first two sets," said Firebaugh. "We came alive in the third and fourth and had great momentum and energy. A couple balls did not fall our way and they took the match, but I was super proud of the girls. They had a lot of fight and a 'never give up' mentality."
Ripley Barry had 15 kills and Canada had a dozen. Myers had 33 digs, Brea Anduiza had 30 assists and Jadyn Miller had six aces.
River also hosted Floyd last week and won in three sets, 25-19, 25-23 and 26-24. River had four girls with 10 digs or more, including Myers with 21 and Anduiza with 19.
Lord Botetourt took the court for the first time in September on Monday of this week and the 11-day layoff didn't hurt the Cavs. They took a four-set win at Cave Spring against a team they needed five sets to beat the first time around at home. The score at Cave Spring was 25-11, 25-22, 23-25 and 25-23.
Becca Huddleston had 13 kills to lead LB and she also had five blocks. Savanna Johnson had 11 kills while Emma Rice had eight kills and two blocks. Skylar Morris had 33 assists and 24 digs, Bria Harvey had 19 digs and Erica Gergely had 18 digs and six kills.
Now 4-1, LB will get a chance to avenge their only loss when they host Blacksburg on Monday, September 18. A day later they'll open their Blue Ridge District schedule at William Byrd.
After Thursday's trip to Daleville the James River girls will be at Radford next Tuesday. The Knights were scheduled to play at Carroll County on Tuesday of this week but results were too late for publication.