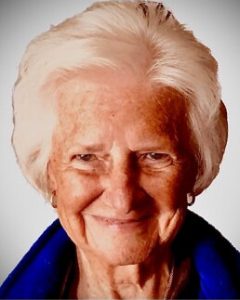 Virginia Ruth (Cruff) Poff, 83, passed peacefully from this earthly life and into the arms of Jesus on Sunday, June 4, 2023.
Ruth was born July 23, 1939 in Salem, Va. She married Ralph Poff in 1957, and spent her life raising their children, and then shared her love for children with loads of kids who came and went though her at-home daycare. After Ruth retired, she enjoyed traveling throughout the U.S. with family and friends. She loved her family, music, watching sports, playing cards, and spending time in the sun.
Ruth was preceded into death by her husband of 51 years, Ralph B. Poff; her parents, Davis W. Cruff and Alma Toy Cruff; brothers, Raymond Cruff and Shannon Cruff; and sister, Mary Will (Cruff) Booth; her daughter, Ruth Virginia (Ginger) Poff; and three great- grandchildren.
She is survived by her sons, Ben Poff (Trisha), and David Poff (Deborah); her daughters, Sheila Ridgway (John), and Terri Meckes (Bryan); as well as 15 grandchildren and seven great-grandchildren.
The family would like to express our most heartfelt thank you to the Compassionate Care Hospice staff of Akron, Ohio. Mom was treated with kindness and respect, and her comfort was their top priority.
Visitation will be from 11 a.m.-12:45 p.m., and funeral services will be held at 1 p.m. on Saturday, July 8, 2023 at Lotz Funeral Chapel, 1330 East Main Street, Salem. Interment immediately following in Sherwood Memorial Park in Salem. In lieu of flowers, memorial donations can be made to the Alzheimer's Association or your favorite charity.