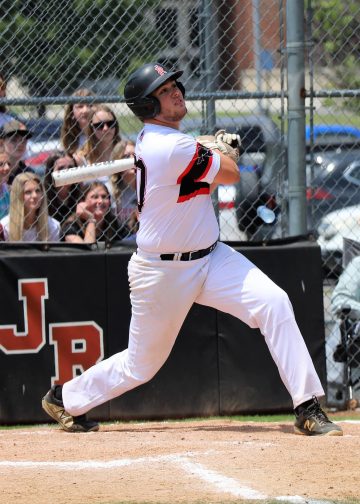 Glenvar scored three runs in the top of the eighth inning to break up a pitchers' duel and end James River's baseball season last week. The Knights dropped a 4-1 game in Springwood in the first round of the Region 2C tournament.
This one was a battle between starting pitchers Heath Andrews of James River and Glenvar's Dawson Anderson. Glenvar drew first blood in the top of the first inning but River tied the game at 1-1 when Taylor Wilson's sacrifice fly scored John Austin in the bottom of the third. That's how it stood through seven innings and extra innings were needed to decide a winner between two Three Rivers District rivals who split wins during the regular season.
Andrews struck out 11 before leaving with no outs in the top of the eighth when he reached his pitch limit after allowing a leadoff single. Colin Cook relieved and gave up a two-run single as the Highlanders rallied for three runs, tagging Andrews with a tough-luck loss. Ashton Meadows then relieved Anderson on the mound for Glenvar and he retired the Knights in the bottom of the eighth for a save.
"The boys came out and played hard today," said River coach Matt Gouker. "Things didn't work out for us but we continue to take steps in the right direction. This is the second season that we have hosted a regional game. We will find the formula to punch through that first game and continue to be successful."
River had five hits for the game, one each by Hunter Mays, Evan Byers, Logan Joyce, Austin and Wilson. With the loss the Knights finished the season at 9-14. It was the last game for Gouker, who is leaving after five seasons to become an assistant principal in the Roanoke County School System.
""I feel very blessed to be a part of this program over the last five years," said Gouker. "From the COVID season to winning the Three Rivers District, we have developed a successful program that takes our team to the next level and builds respectful young men. I would like to thank the players, coaches, parents, and the James River community for their support in building and maintaining this program."