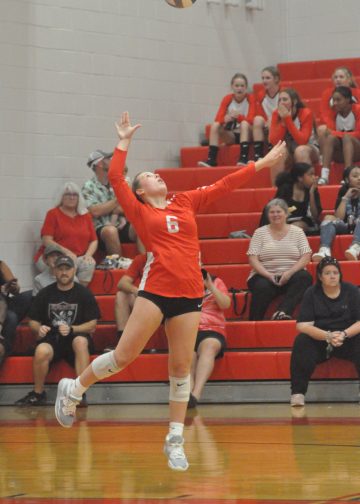 The James River girls will be looking for their third straight volleyball win on Thursday when the host Bassett High in Springwood. The girls beat the Bengals in four sets in Bassett last week.
Last Thursday the Knights won the first two sets over Bassett, 25-20 and 25-16, before the Bengals rallied to win the third, 25-18. River put it away with a 25-13 win in the fourth set.
"Ava Thacker stepped up big in the fourth set with a couple of digs and some big swings to help us take the match," said River coach Linsey Firebaugh. "We executed our game plan well, and were very consistent. Our middles were able to execute well."
Ripley Barry and Caitlin Canada had 13 kills each to lead the Knights. Brea Anduiza dished out 38 assists in the win.
The victory followed a three-set win over Bath County in Hot Springs last Tuesday. River won 25-17, 25-25 and 25-15.
Barry had 15 kills and Canada had 10 in that win. Anduiza had 26 assists and Konner Myers had nine digs.
Now 2-1, River will open Three Rivers District play next Tuesday, September 5, with a home match against Floyd County.