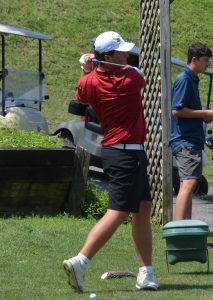 The James River golfers will be at home for a Three River District match on Thursday. Tee off time is 1 p.m. at the Botetourt Golf & Swim Club.
The Three Rivers teams opened the regular season at the Old Mill course last week in a match hosted by Carroll County High School. The Knights finished second with a team score of 343.
"I was extremely pleased that we finished second among our seven district schools," said coach Donna Cox.
Floyd County won the opening round with a 327. River was next, followed by Radford at 348 and Glenvar and Carroll tied for fourth at 369. District newcomer Patrick County had 372 and Alleghany brought up the rear at 380.
River freshman Landon Bolling had a good day, tying Trace Reavis of Carroll County for medalist with a 76. Also scoring for River were Mason Gilliland at 86, Haden Parker at 90 and Evan Mines with a 91.
On Monday, Radford hosted the district at the River Course and the Knights lowered their score to 342. That was good for third behind Floyd at 322 and the host Bobcats at 325. Carroll was fourth at 348 followed by Patrick at 352, Alleghany at 372 and Glenvar at 381.
Bolling and senior Dylan Hicks both shot 83 on the difficult River Course to lead the Knights. Four golfers shot 79 to tie for medalist honors, Payton Mason and Isiah Cantrell of Floyd, Lucas Beeler of Radford and Carroll's Reavis. Also scoring for River were Gilliland at 86 while Parker and Mines both carded a 90.