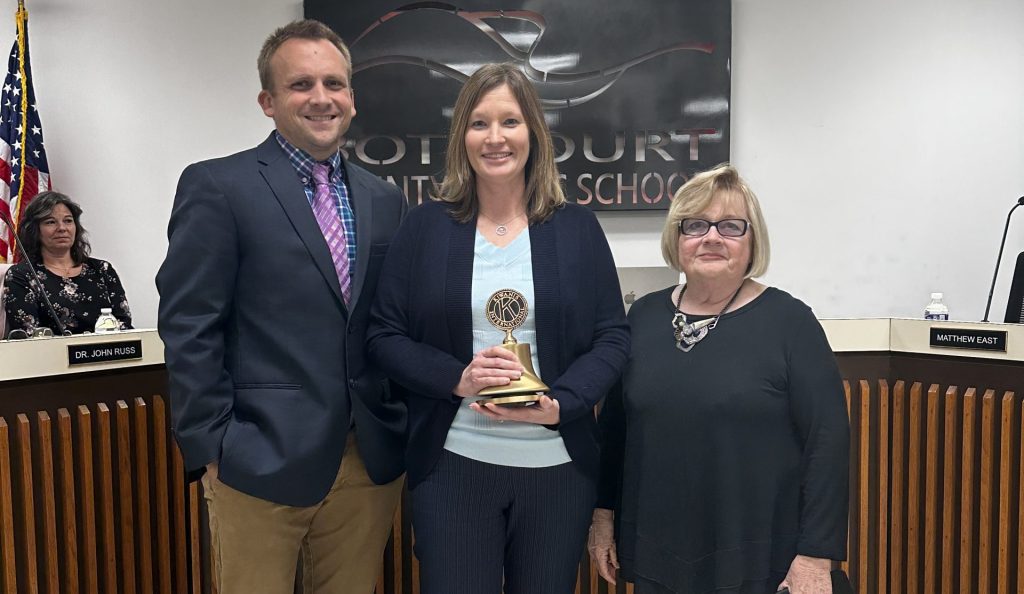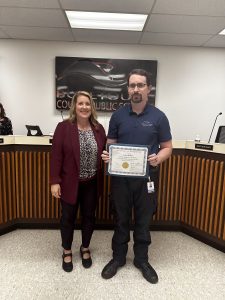 By Matt de Simone
The Botetourt County School Board recognized several employees during the meeting last Thursday in Fincastle.
Former county educator and Kiwanis Club of Botetourt representative Lynne Bolton presented this year's Kiwanis Educator of the Year award to Ashley Theimer, librarian at Central Academy Middle School (CAMS).
Bolton read some of the descriptions of Theimer's contributions to Botetourt County Public Schools before presenting Theimer with her certificate of recognition and Kiwanis Bell Award given in honor of her service. Theimer has worked with librarians and teachers to better expand the offerings for the students of Central Academy.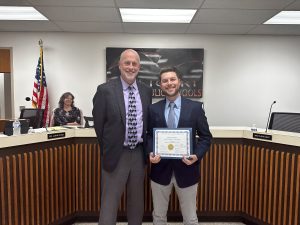 "The biggest contribution (Theimer) makes is helping staff build community connections," Bolton noted. In April and May of 2022, Theimer worked with Altec about educating 7th graders in engineering, collaborated with local business owners about lessons in entrepreneurship for 8th graders, and having Del. Terry Austin visit with Civics students and James River Equipment being involved in agriculture education with CAMS students.
"What an amazing contribution because students only getting a basic education are not going to be ready for this world, but giving them some hands-on experience with some options that might be for them in the future, I think that's just a terrific gift," Bolton continued. "You need to know the basics, but to have this additional offering to you, has got to be very fulfilling for the students."
Technology Department employee Greg Kelly and Breckinridge Elementary School Principal Wyatt Turner were selected at October's BCPS Employees of the Month.